Things To Do in February 2017
So, now that January is out of the way (wahoo!) and the days are slowly starting to get longer, we have to find some awesome things to fill these ever longer days with, right?! February is not just one long preparation for Valentine's day, there are loads of other interesting things happening in the run up to the big V. Believe us when we say that February is the most spontaneous month out there, as illustrated by the fact that nobody ever seems to know whether it'll be 28 or 29 days long ?
Let's start things off with the biggest sporting event on the other side of the pond – the Super Bowl. Fun fact, did you know that there has never been a Super Bowl to reach overtime? Neither did we – but that's just one of many facts you could pick up on this amazing Super Bowl Pub Crawl (from someone who knows more about american football than we do).
1 Big Night Out will be organising the most epic pub crawl on the 5th of February starting at 7:30 pm, going through 4 bars in 5 hours and filled with classic games such as flip-cup, foosball and beer pong. If you happen to be staying with us on this day of days, make sure to pop by reception and we'll sort out a cheeky discount for the pub crawl ?
The Natural History museum is most certainly one of the most beautiful buildings in London and should be on your list if you're visiting this February as they'll be organising an extra special After-School Club for Grown-Ups. Highlights include an inflatable planetarium and a silent disco (it needs to be silent because the dinosaurs hate loud noises – FACT) so if that doesn't sound like fun, we don't know what does!
Ok, so in case your ideal Valentine's Day celebration doesn't necessarily involve romantic dinners and if rather than chocolate sweets you'd prefer some sweet beats, then you might enjoy the Space Valentine's Party @ McQueen. On the night you'll have a top DJ line-up romancing you on the dancefloor with deep house vibe, tech house and uplifting vocal house that will definitely make your heart skip a beat.
Even though this Chinese New Year has already come and gone, you can still enjoy the beautiful celebrations at the Magic Lantern Festival. This will be the second year this event will takes place at Chiswick House and Garden with a theme centering around the Silk Road. You can look forward to seeing some amazing light installations, a pop-up ice bar made of ice, a virtual reality area and delicious delicious street food. The sound of that definitely puts us in a celebratory mood ???
Straighten up your collars and bring out your least crumpled dresses, fellow backpackers! Because this is London Fashion Week – one of the big four fashion weeks that comes around but twice a year. So if you need something to put a spring in your step, make sure to be around between the 17th and 21st of February when LFW returns and over 70 designers will showcase their autumn/winter collections. We wonder if this will finally be the year where unmatched socks and ironic holiday t-shirts will finally be on trend (fingers crossed). Alternatively, if couture really isn't your thing, check out Bethnal Green's Affordable Vintage Fair 😉
You want to make this February a truly memorable one? Well, they say tattoos are pretty memorable, so why not check out one of the most unique and innovative tattoo conventions of the year and get the chance to collect some ink from one of many remarkable tattoo artists. This convention will be showcasing the best of British and Irish studios and it's happening right on our doorstep, at the Truman Brewery
What's better than a party you ask? A FREE party of course! It's happening at the well known 93 Feet East and the line-up includes Riaz Dhanani, Cary Carmen, Jevanni Letford, David Del Vecchio and many more.
We seem to have special days for everything nowadays: Nutella Day, Backwards Day and even "Don't Cry Over Spilled Milk" Day, so we wouldn't blame you if you were a bit sceptical about Pancake Day if you're not from around these parts (although come on, it's pancakes!). But in fact, Pancake Day or Shrove Tuesday Celebrations date as far back as the 12th century and it was initially just a way of using up eggs, milk and sugar before the 40 days of Lent began. If you're visiting London and want to take part in the local celebrations, one of the best ones will be The Great Spitalfields Pancake Race happening on our very own Brick Lane and all proceedings will be in aid of London's Air Ambulance.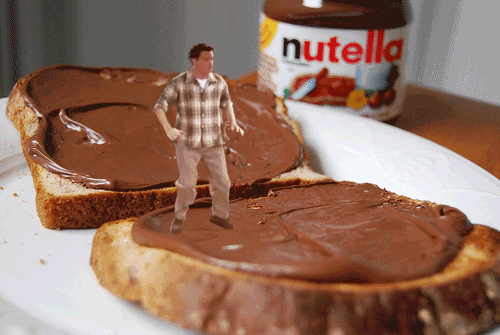 So guys, February the 5th is international Nutella day, and even if we know in our heart of hearts that this day was invented by someone in Nutella's marketing department, we're totally falling for it and getting excited! So we thought we'd share an extra bonus list with places you can go and eat your backpack's weight in chocolatey goodness. You are very welcome 😉
If you're planning on visiting London soon and are really excited about an event, let us know! We're always looking for fresh inspiration for our monthly lists so tell us on Twitter about the London happenings you're looking forward to.
Until next time, stay cool 😉
brick lane, East London, Fashion, halloween ideas, London, nutella day, pancake race, party, Shoreditch, tattoo, valentine's day